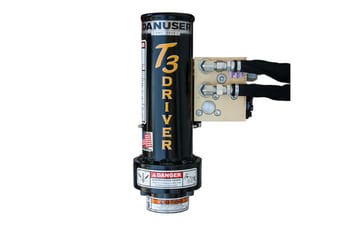 | | |
| --- | --- |
| Post Dimensions: | T-post to 3″ O.D. pipe |
| Impact Force: | 2,000 lbs. per stroke |
| Impact Energy: | 40 ft.-lbs. per stroke |
| Hammer Weight: | 10 lbs. |
| Strokes Per Second: | 6 |
T3 Driver
| | |
| --- | --- |
| Overall Depth | 12″ |
| Overall Width | 11″ |
| Overall Height | 17″ |
| Weight | 86 lbs. |
| Hydraulic Requirements | 1500-3000 PSI & Up to 30 GPM* |
Skid‑Steer
| | |
| --- | --- |
| Overall Depth | 14″ |
| Overall Width | 45.5″ |
| Overall Height | 19″ |
| Weight | 173 lbs. |
| Hydraulic Requirements | 1500-3000 PSI & Up to 30 GPM*1500-3000 PSI & Up to 30 GPM* |
Skid‑Steer Offset
| | |
| --- | --- |
| Overall Depth | 18″ |
| Overall Width | Extendable 50.5″-86.5″ |
| Overall Height | 19″ |
| Weight | 286 lbs. |
| Hydraulic Requirements | 1500-3000 PSI & Up to 30 GPM* |
Euro/Global
| | |
| --- | --- |
| Overall Depth | 16″ |
| Overall Width | 45″ |
| Overall Height | 21″ |
| Weight | 181 lbs. |
| Hydraulic Requirements | 1500-3000 PSI & Up to 30 GPM* |
John Deere 200-500 Series
| | |
| --- | --- |
| Overall Depth | 15″ |
| Overall Width | 49″ |
| Overall Height | 24″ |
| Weight | 193 lbs. |
| Hydraulic Requirements | 1500-3000 PSI & Up to 30 GPM* |
| * T3 Driver will operate at 6 strikes per second on vehicles with 15-30 GPM. It will function at fewer strikes per second below 15 GPM. | |
Front-End Loader Hose Kit
1/2" hose kit, 25' long, with flat face ISO couplers and pioneer couplers. Mounting bracket included for bolting or welding. Hardware not included.
Tilt Bracket Assembly
Tilt left or right up to 20°. T-Handle design with lockout feature. Hardware included. Works with all T3 Driver mount platforms.
Mount Bracket
Bolt-on/weld-on bracket that mounts to a flat surface.
Plumb Bob
Provides vertical line reference for operator.