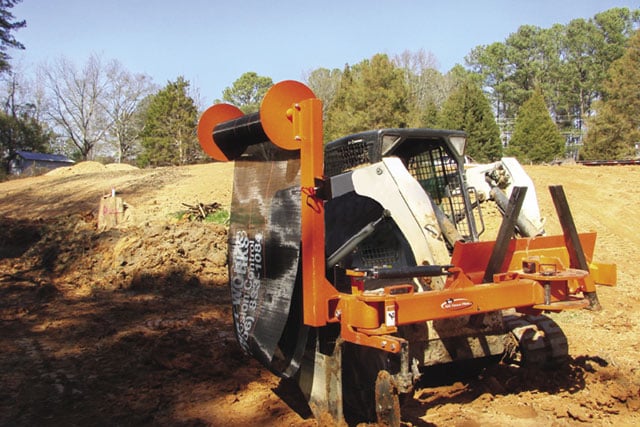 DEDICATED QUICK ATTACH SKID LOADER HITCH
SIMPLE ROTARY OFFSET DESIGN
PP-SFP36
Height Knife Setting Top: Bottom:
76"

71"

Width
60"
Length
120"
Weight
1,090 lbs.
Offsetting Ability In pull positions from center
29" and 40" from center
Offset in push position from center
51"
PP-SFP42
Height Knife Setting Top: Bottom:
76"

71"

Width
60"
Length
131"
Weight
1,105 lbs.
Offsetting Ability In pull positions from center
29" and 40" from center
Offset in push position from center
51"
PP-SFP48
Height Knife Setting Top: Bottom:
76"

71"

Width
60"
Length
137"
Weight
1,165 lbs.
Offsetting Ability In pull positions from center
29" and 40" from center
Offset in push position from center
51"
TSA-1051 – Three Point Hitch to Skid loader Adapter Bracket
The TSA-1051 Three Point to Skid loader Adapter Bracket allows a dedicated skid loader mounted machine to be operated off the three point hitch of a tractor. It has Cat I and II three point hitch mountings. A hyd. top link is required when using the TSA-1051 mounting on Silt Fence Plows and is recommended when using it on any other skid loader attachment.
RWU-1056 Wire Unroller
The wire unroller mounts on either side of the machine. It allows a roll of wire to be unrolled as the fabric is being sliced into the ground. It will not install the wire into the ground. If you need to install the wire and the fabric into the ground together look at the Enfencer machine on our website. With the Push Pull model the wire unroller can only be used in the backwards position.
FC-1136 – 36″ & FC-1148 – 48″ Fabric Curtains
The fabric curtain is a plastic divider that separates the fabric so it does not rub against itself when going through the fabric chute. It is only needed when using non woven fabrics to prevent the fabric from grabbing itself and pulling down. With the slick woven fabric, the divider is not needed.