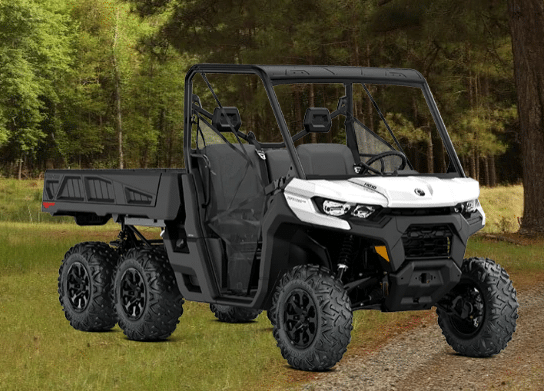 Can-am Defender 6×6 DPS 1000CC
UNSURPASSED PAYLOAD CAPACITY
13-IN OF GROUND CLEARANCE
INDUSTRY LEADING 3,000-LBS TOWING CAPACITY
Durable PRO-TORQ CVT transmission and selectable 4WD. 4WD THAT GOES THE DISTANCE
Advanced VERSA-PRO bench seats. PICK-UP INSPIRED SEATING
OPEN DASH WITH REMOVABLE TOOLBOX AND UNDER DASH STORAGE
Less noise, vibration, harshness. GET COMFORTABLE
Heavy-duty suspension. SUPPORTING ROLE
A warranty that's got your back. REAL FUTURE TOGETHER
| | |
| --- | --- |
| ROTAX ENGINE | ROTAX HD10 V-TWIN |
| TOWING CAPACITY | INDUSTRY LEADING 3.000-LBS TOWING CAPACITY |
| DRIVE TRAIN | SELECTABLE 4WD / 6WD WITH VISCO-LOK† QE AUTO-LOCKING FRONT DIFFERENTIAL |
Defender 6×6 DPS Specs
| | |
| --- | --- |
| GROUND CLEARANCE | Up to 13 in (33 cm) |
| WHEELBASE | 115.5 in (294 cm) |
| LENGTH | 153.3 in (389.6 cm) |
| WIDTH | 64 in (162.5 cm) |
| HEIGHT | Up to 77.5 in (196.8 cm) |
| | |
| --- | --- |
| ENGINES | HD10 |
| Type | 82 hp / 67 lb-ft, Rotax® 976 cc, V-twin, liquid cooled |
| Fuel Delivery System | Intelligent Throttle Control (iTC™) with Electronic Fuel Injection (EFI) |
| Transmission | PRO-TORQ transmission with Quick Response System (QRS), high airflow ventilation and Electronic Drive Belt Protection Extra-L / H / N / R / P |
| Drive Train | Selectable 4WD / 6WD with Visco-Lok QE auto-locking front differential |
| Driving Assistance | Electronic Hill Descent Control ECO™ / ECO Off / Work modes |
| Power Steering | Dynamic Power Steering (DPS) |
SUSPENSIONS
| | |
| --- | --- |
| Front Suspension | Arched double A-arm / 11 in. (27.9 cm) travel |
| Front Shocks | Twin tube gas charged shocks |
| Rear Suspension | Arched TTA with external sway bar / 11 in. (27.9 cm) travel |
| Rear Shocks | Twin tube gas charged shocks |
BRAKES
| | |
| --- | --- |
| Front | Dual 220 mm ventilated disc brakes with hydraulic twin-piston calipers |
| Rear | Dual 220 mm ventilated disc brakes with hydraulic twin-piston calipers |
TIRES / WHEELS
| | |
| --- | --- |
| Front Tires | Maxxis Bighorn 2.0 27 x 9 x 14 in. (68.6 x 22.9 x 35.6 cm) |
| Rear Tires | Maxxis Bighorn 2.0 27 x 11 x 14 in. (68.6 x 27.9 x 35.6 cm) |
| Wheels | 14-in. (35.6 cm) cast-aluminum |
FEATURES
| | |
| --- | --- |
| Gauge | 4.5 in. (11.4 cm) wide digital display: Speedometer, tachometer, odometer, trip and hour meters, fuel, gear position, ECO / ECO Off / Work modes, seat belt, diagnostics, clock, battery voltage, engine temperature |
| Battery | 12 V (18 amp/h) |
| Magneto | 650 W |
| Instrumentation | Lighter type DC outlet in console (20-A) |
| Lighting | 140 W lighting output from four 35-W reflectors ensuring a wide visiblity and LED tail lights |
| Winch | N/A |
| Seat | VERSA-PRO bench seat with passenger seats flipping up, underside hooks and contoured bench to improve entrance/exit of the cab |
| Protection | Integrated front steel bumper, HMWPE central skid plate |
| Hitch Type | 2-in. hitch receiver |
| Steering Wheel | Adjustable tilt steering |
DIMENSIONS / CAPACITIES
L x W x H
153.4 X 64 X 78 in (389.6 X 162.5 X 198.1)
Wheelbase
115.5 in. (294 cm)
Ground Clearance
13 in. (33 cm)
Estimated Dry Weight
1,944.5 lb (882 kg)
Cage
Profiled cage ROPS approved
Cargo Box Dimensions
72 x 54.5 x 10 in. (180,3 x 138,4 x 25,4 cm)
Cargo Box Capacity
1,000 lb (454 kg) / California only: 600 lb (272.2 kg
Tailgate Load Capacity
250 lb (113.4 kg)
Storage Capacity
Total: 10.4 gal (39.5 L)

Under dash: 6 gal (22.8 L)

Dash: 1.8 gal (6.9 L)

Water-resistant and removable toolbox: 1.7 gal (6.3 L)

Armrests and cup holders: 0.9 gal (3.5 L)

Towing Capacity
3,000 lb (1,361 kg)
Payload Capacity
1,700 lb (771 kg)
Fuel Capacity
10.6 gal (40 L)
Person Capacity
3
WARRANTY
| | |
| --- | --- |
| Factory | 1-year limited warranty |
| Extended | Up to 30 months B.E.S.T. coverage |
| | |
| --- | --- |
| ROTAX ENGINE | ROTAX HD10 V-TWIN |
| TOWING CAPACITY | INDUSTRY LEADING 3.000-LBS TOWING CAPACITY |
| DRIVE TRAIN | SELECTABLE 4WD / 6WD WITH VISCO-LOK† QE AUTO-LOCKING FRONT DIFFERENTIAL |
Defender 6×6 DPS Specs
| | |
| --- | --- |
| GROUND CLEARANCE | Up to 13 in (33 cm) |
| WHEELBASE | 115.5 in (294 cm) |
| LENGTH | 153.3 in (389.6 cm) |
| WIDTH | 64 in (162.5 cm) |
| HEIGHT | Up to 77.5 in (196.8 cm) |
| | |
| --- | --- |
| ENGINES | HD10 |
| Type | 82 hp / 67 lb-ft, Rotax® 976 cc, V-twin, liquid cooled |
| Fuel Delivery System | Intelligent Throttle Control (iTC™) with Electronic Fuel Injection (EFI) |
| Transmission | PRO-TORQ transmission with Quick Response System (QRS), high airflow ventilation and Electronic Drive Belt Protection Extra-L / H / N / R / P |
| Drive Train | Selectable 4WD / 6WD with Visco-Lok QE auto-locking front differential |
| Driving Assistance | Electronic Hill Descent Control ECO™ / ECO Off / Work modes |
| Power Steering | Dynamic Power Steering (DPS) |
SUSPENSIONS
| | |
| --- | --- |
| Front Suspension | Arched double A-arm / 11 in. (27.9 cm) travel |
| Front Shocks | Twin tube gas charged shocks |
| Rear Suspension | Arched TTA with external sway bar / 11 in. (27.9 cm) travel |
| Rear Shocks | Twin tube gas charged shocks |
BRAKES
| | |
| --- | --- |
| Front | Dual 220 mm ventilated disc brakes with hydraulic twin-piston calipers |
| Rear | Dual 220 mm ventilated disc brakes with hydraulic twin-piston calipers |
TIRES / WHEELS
| | |
| --- | --- |
| Front Tires | Maxxis Bighorn 2.0 27 x 9 x 14 in. (68.6 x 22.9 x 35.6 cm) |
| Rear Tires | Maxxis Bighorn 2.0 27 x 11 x 14 in. (68.6 x 27.9 x 35.6 cm) |
| Wheels | 14-in. (35.6 cm) cast-aluminum |
FEATURES
| | |
| --- | --- |
| Gauge | 4.5 in. (11.4 cm) wide digital display: Speedometer, tachometer, odometer, trip and hour meters, fuel, gear position, ECO / ECO Off / Work modes, seat belt, diagnostics, clock, battery voltage, engine temperature |
| Battery | 12 V (18 amp/h) |
| Magneto | 650 W |
| Instrumentation | Lighter type DC outlet in console (20-A) |
| Lighting | 140 W lighting output from four 35-W reflectors ensuring a wide visiblity and LED tail lights |
| Winch | N/A |
| Seat | VERSA-PRO bench seat with passenger seats flipping up, underside hooks and contoured bench to improve entrance/exit of the cab |
| Protection | Integrated front steel bumper, HMWPE central skid plate |
| Hitch Type | 2-in. hitch receiver |
| Steering Wheel | Adjustable tilt steering |
DIMENSIONS / CAPACITIES
L x W x H
153.4 X 64 X 78 in (389.6 X 162.5 X 198.1)
Wheelbase
115.5 in. (294 cm)
Ground Clearance
13 in. (33 cm)
Estimated Dry Weight
1,944.5 lb (882 kg)
Cage
Profiled cage ROPS approved
Cargo Box Dimensions
72 x 54.5 x 10 in. (180,3 x 138,4 x 25,4 cm)
Cargo Box Capacity
1,000 lb (454 kg) / California only: 600 lb (272.2 kg
Tailgate Load Capacity
250 lb (113.4 kg)
Storage Capacity
Total: 10.4 gal (39.5 L)

Under dash: 6 gal (22.8 L)

Dash: 1.8 gal (6.9 L)

Water-resistant and removable toolbox: 1.7 gal (6.3 L)

Armrests and cup holders: 0.9 gal (3.5 L)

Towing Capacity
3,000 lb (1,361 kg)
Payload Capacity
1,700 lb (771 kg)
Fuel Capacity
10.6 gal (40 L)
Person Capacity
3
WARRANTY
| | |
| --- | --- |
| Factory | 1-year limited warranty |
| Extended | Up to 30 months B.E.S.T. coverage |
WHY CHOOSE CAN-AM ACCESSORIES?
Quality & Seamless Integration. Accessories that fit in, fit right, look great, are made to last, and are the only ones that can transform any Can-Am into your Can-Am. Enjoy countless ways to combine & customize.
Top up your look
From racing and sport roofs, to bimini and convertible roofs, including mesh, soft and skylight roofs as well roll cage covers and sun visors to top it off, we've got you covered for protecting you in style.
End-to-end wind resistance
Shield yourself and your passenger from the elements without ever compromising optical clarity at the front, while blocking dust or rain from back-drafting through the rear even when riding in the harshest environments.
Load more, do more
Racks, rack extensions, gear rails, holders, gear grips, gun racks, spare tire holders, etc. – countless options for packing everything you need to bring along for the ride quickly and securely.
The terrain is tough, you're tougher
Your vehicle will look fierce as it pushes back against obstacles with an entire legion of protective and reinforcement equipment that will never leave your side – and your front, and back, and under.
Graphic Kits
The exclusive graphic kits let you customize your side-by-side vehicle. You're unique. Your ride should be too.